Lap Joint Flanges
Lap Joint flanges are used on piping fitted with with lapped pipe or with lap joint stub ends. The lap joint flange with the stub end assembly are normally used in systems requiring frequent dismantling for inspection and cleaning and where the ability to swivel flanges and to align bolt holes materially eases the erection of large diameter or unusually stiff piping. These flanges are also used in applications where there is a need to facilitate bolt alignment.
These type of flanges are similar to slip-on flanges. The only difference is that it has a curved radius at the bore and face to accommodate a lap joint stub end. They may be used at all pressures and are available in a full size range. These lap joint flanges slip over the pipe, and are not welded. They are otherwise fastened to it. Here the bolting pressure is transferred to the gasket by the pressure of the flange against the back of the pipe lap.
Materials used:
Carbon steel
Stainless steel
Alloy steel
Brass
Cast Iron
Bronze
Aluminum
Thermoplastics
PVC etc.
Buying tips
Certain factors to consider are as follows:
Size
Design Standard
Material
Normal Pressure
Face Type
Durability
Corrosion Resistant
Key Features:
Recommended in applications that require frequent dismantling of the flanges and pipe.
Used with a matching stub-end insert.
Can rotate to allow for an easy alignment of bolt holes.
Not recommended in extreme or high-pressure temperature applications.
Advantages of Lap Joint Flanges: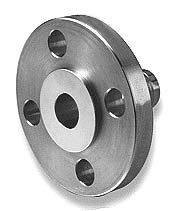 Lap Joint flanges have certain special advantages over other flanges. These are as follows:
Lap Joint flanges have the freedom to swivel around the pipe. This facilitates the lining up of opposing flange bolt holes.
Lack of contact with the fluid inside the pipe leads to the greater durability of these flanges.
In piping systems which corrode or erode quickly, the lap joint flanges may be salvaged for re-use.
The pressure-holding capacity of lap joint flanges is little. But it is better than that of slip-on flanges.
The Lap Joint works as a backing ring on the stub.
The main advantage of lap joint flange is that the bolt holes can be aligned with the matching flange after the welds have been completed.
They allow rotational alignment capability.
The points mentioned below will be a guide for the buyers: