Pipe Flange Gaskets
Pipe flange gaskets are used for improved joint performance. They are considered much more superior than the conventional ring or full-face gaskets. Although pipe flange gaskets are usually used for all normal water and sewer service, they are especially useful in demanding services like in very large diameter flanged piping. For specially designed long-span installations, involving 2 or 3 or more lengths of pipe or with any underground flanges, flange gaskets are of great help because they could be subjected to undesirable beam loading.
These gaskets are available in numerous standard materials in various thickness and hardness options for various flange sizes. Flange gaskets are also available with adhesive on one or both sides or without adhesive. Most materials are available starting at 1/32" thick and can be supplied up to 1" thick. Some manufacturers supply flange gaskets in wide rolls from which you can cut your flange gaskets to size. Flange gaskets are also available to your exact requirements. Pipe flange gaskets are being very frequently used for flanged joints which are subjected to extreme chemical attacks.
Materials used:
Flange gaskets are made of various materials like:
Rubber

Neoprene
EPDM
Nitrile
EVA
Silicone
Cork and Cork Rubber

Closed Cell Foam

Cross-linked Polyethylene
PVC

Plant Fiber
Cellulose Fiber
Metal

Steel
Stainless Steel
Aluminum
Copper
Cast iron etc.
Buying Tips
Material selection: Selection of the proper gasket material is important with regard to the flange finish and performance.
Flange gasket types: Flat face or ring type
Thickness selection
Correct size
Durability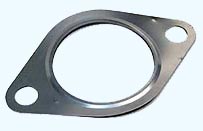 Types of flange gaskets:
Standard pipe flange gasket line includes two basic styles:
Both ring type and full face pipe flange gaskets are available in both low and high pressure options.
How to measure pipe flange gaskets?
It is necessary to know the nominal pipe size and the gasket's inner diameter and outside diameter.
Applications of Typical Flange Gaskets:
HVAC (Heating, Ventilation, and Air Conditioning) Industry: Usually, flange gaskets used in this industry are made of different types of rubber. They are usually supplied with adhesive on one or both sides in various shapes like round (I.D. x O.D.), rectangular and square outside shapes. Flange Gaskets are available for wide flange configurations.
Plumbing Industry: Here, the standard ring and full face flange gaskets are available in various styles.
Sheet Metal Enclosures: The flange gaskets used here are normally rectangular in shape. They come with adhesive on one side which is used as a gasket to seal out dust, liquids or air.
Electronic, food, medical, chemical and packaging industries: The flange gaskets used here have a flat surface that is compressed between two flanges.
The points mentioned below will be a guide for the buyers: