Reducing Flanges
Reducing flanges are designed for use in changing diameters in a piping system. A reducing flange comprises a flange with one specified diameter having a bore of a different and smaller, diameter. Except for the bore and hub dimensions, the reducing flange will have dimensions of the larger pipe size. These flanges are used at the outlet side of the expansion joint to increase the size of the flange. This is considered to be an economical method to make a transition in size.
Materials used:
Carbon steel
Stainless steel
Alloy steel
Brass
Cast Iron
Bronze
Aluminum
PVC etc.
Types of Reducing Flanges:
Reducing flanges are normally provided as one of the following three types:
Welding Neck
Slip-On
Threaded etc.
Buying Tips
Certain factors that buyers should consider before buying reducing flanges are as follows:
Size
Type
Face type
Style
Length
OD
Pressure Rating
Thickness
Materials (tested for corrosion resistant)
Tested and verified for durability, accuracy and precision etc.
How to connect reducing flange?
To connect two sized pipes, the appropriate reducing flange is inserted between the two and bolted into place.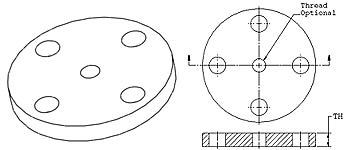 Uses of Reducing Flanges:
Reducing flanges are used in pipe-to-pipe connections.
Reducing flanges are a little easier to bolt up than non-reducing flanges.
They provide the most perfect solution when you need to connect different size flanges.
These flanges are available in all types and pressures.
Reducing flanges are fixed by welding, gluing or clamping flanges of equal dimensions provided with different connecting pieces.
They offer the simplest and least expensive method of mating two different sized flanges.
The points mentioned below will be a guide for the buyers: