Weldneck Flanges
Weld Neck Flanges are a very common type of pipe flanges used in various industrial applications. They have a long tapered hub and are often used for high pressure applications.
Materials used:
Steel
Stainless Steels
Cast Iron
Brass
Galvanized steel
Carbon Steel
Aluminum
Copper
Polypropylene
PVC etc.
Types of facings in weld neck flanges:
The three most common types of facings for weld neck flanges are:
Raised face (most common)
Ring type joint (RTJ)
Flat face
Buying Tips
When ordering a weld neck flange, it is very important to specify the schedule of the pipe being used for. This is because the inside diameter of the weld neck flange will match the inside diameter of your pipe.
Key Features:
This is the most common type of high pressure pipe flange.
They are distinguished from other types of pipe flanges by their long tapered hub and gentle transition of thickness in the region of the butt weld joining them to the pipe.
The long tapered hub provides an important reinforcement of the weld neck flange proper in terms of strength and resistance to dishing.
How to measure weld neck flange?
Take the measurements of the following:
A:
Hub Diameter at Point of Weld
B:
Weld Neck Bore
C:
Thickness
Y:
Length through Hub
O:
Outside Diameter
R:
OD of Raised Face
X:
Diameter at Base of Hub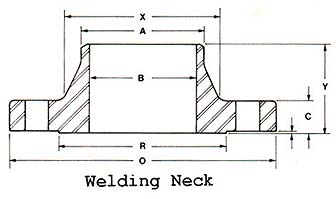 Uses of weld neck flanges: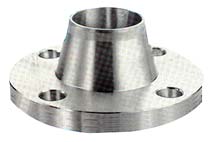 The weld neck flange is very resistant to dishing and has a very sturdy connection because it has the pipe along with the tapered hub.
The flanges are ideal for extreme fluctuations of temperature.
They are ideal in environments where there may be a lot of bending and handling of the flanges.

Preferred in an environment with extreme temperature conditions.
This type of flange is preferred for every severe service condition—resulting from high pressure or from sub-zero or elevated temperature.
They are used in situations where loading conditions are substantially constant or fluctuate between wide limits.
This is probably the best welding flange available because of its high, heavy neck.
Highly recommended wherever a sound welded joint connection is needed.
The points mentioned below will be a guide for the buyers: