Threaded Flanges
Threaded flanges are widely demanded as pipe flanges used in different industrial applications. They are the special type of pipe flanges which can be attached to the pipe without welding. Threaded flanges are threaded in the bore which match an external thread on the pipe.
These threads are tapered in order to create a seal between the threaded flange and the pipe as the tapers approach the same diameter. Sometimes a seal weld is also used together with the threaded connection. They are available in various sizes and materials.
Materials used:
Stainless Steel
Alloy Steel
Carbon Steel
Cast Iron
Steel
Aluminum
Brass
Bronze
Monel
PVC
Thermoplastic etc.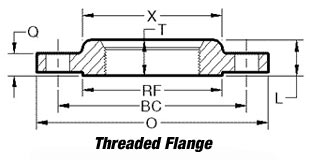 How to measure threaded flange?
Take the measurements of the following:
O: Flange Diameter
Q: Flange Thickness
X: Hub Diameter at Base
RF: Raised Face Diameter
BC: Diameter of bolt circle
L: Length through hub
T: Thread Length
Key Features:
No welding is required.
Good for small pipe sizes.
Should be avoided for larger loads, especially when subjected to higher torque.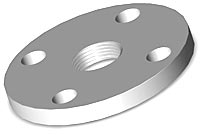 Uses of threaded flanges:
Threaded flanges can be fitted to pipes of various sizes without welding and this is one chief benefit for which these flanges are highly demanded.
They can be used in extremely high pressure applications, particularly at or near atmospheric temperature, where the necessary post weld heat treatment is not possible.

They are ideal for small diameter piping applications.
They are economical and time saving devices.
These threaded flanges are normally designed for non-cyclic applications.
The flanges are suitable to be used in applications where welding is hazardous.
They can be used in highly explosive areas.
The points mentioned below will be a guide for the buyers: