Foot Valves
A foot valve is a very widely demanded pipe valve, which is applicable in various industries. It is a kind of check valve fitted on the foot of a suction line to prevent backflow. A foot valve is placed in the water source below a surface pump. The basic function is to prevent water from flowing back down the pipe. In other words, it is a valve to allow the pump to pull water up but does not allow the water to flow back down.
This helps in keeping the pipe full of water while the pump is not running. This kind of valve is available in a variety of shapes, sizes, and materials.
Buying tips
Some factors to take into consideration are:
Valve Features
Standard Materials: Strong Non-Corrosive Materials
Sizes
Maximum Recommended Working Pressure
Easy to operate
Easy to install
Durability
Some other factors to consider are:

Calculate or measure the capacity of your pump installation.
For dirty water applications, always select the largest valve that will be operating in the area shown by the thicker line.
Materials used:
Brass
Plastic
Aluminum
Stainless Steel
Carbon steel
Cast iron
Copper
Nickel
Rubber etc.
Uses of foot valves:
They prevent the pump column from draining upon pump shutdown.
They are widely applied to all kinds of pneumatic system.
They are used in a suction line of the pumping system in a well.
They provide a positive sealing action at both low and high pressures without slamming.
Types of foot valves:
| | |
| --- | --- |
| Female threaded Foot Valve | Dual purpose threaded foot valve |
| Dual threaded foot valve | Suction Strainer |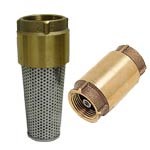 Parts of a foot valve:
Foot valve body
O-ring
Foot valve cover
Spring
Valve seat
Plunger assembly
Diaphragm
Plunger guide
Plunger
Operating lever
Bottom nut
Washer